Aural Avalanche: Discovering Classic Rock, Alt Rock, and the Unseen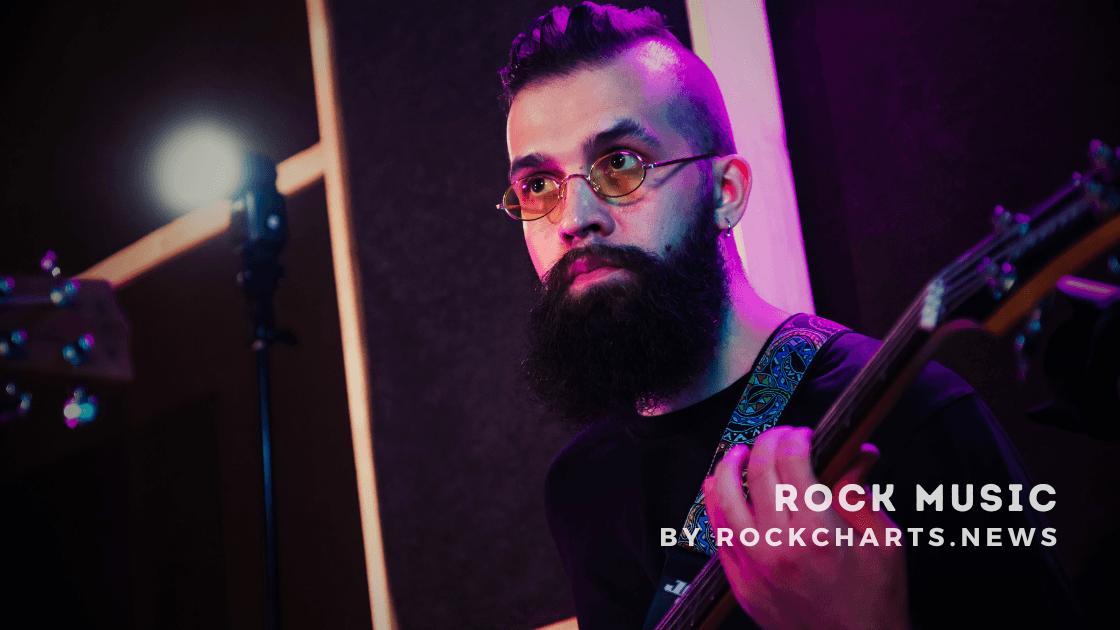 Craving a sonic expedition that immerses you into the heart-pounding thrill of Classic Rock, Alt Rock, and more?
Step into our music review article—an Aural Avalanche teeming with exciting releases, brave-hearted rock virtuosos, and a meticulously chosen playlist.
We set off our musical saga by unearthing the diverse culture imprinted in the spirit of Classic Rock, showcasing maverick musicians who are reshaping the genre. As we sway into the thriving Alt Rock scene, we encounter artists who articulate a music style that toys with mind-bending soundscapes and fierce compositions. Our exploration extends further, unmasking a treasured collection of enveloping tunes which venture beyond traditional rock domains.
MATTHEW S. HORNER releasing The Dark Room
Among the album's greatest strengths is the power of his male vocals, demonstrating a range and expressiveness reminiscent of famous artists like Kurt Cobain or Eddie Vedder.
Ready for an avalanche of evocative rock wonders? Check it out, follow these audacious artists on Spotify, and lose yourself in the resonating rhythms of our well-selected playlists. Let 'Aural Avalanche' take you on an irresistible rollercoaster of mind-altering rock discovery!
---
1) BREAKTIME – Specials
Hailing from the epicentre of US-based culture in Bayonne, NJ, "BREAKTIME" is an independent artist who has managed to blend Americana with the punchy elements of power pop. Their latest EP, "Specials," speaks volumes about their craft, drawing parallelisms with the likes of iconic artists such as Neil Young and The Eagles.
Their distinct approach to indie pop and classic rock, alongside the nostalgic undertones, leaves a lasting impression akin to a soft rock magic carpet ride. Their music, as has been famously said, "serves as a lively lullaby in the hectic chaos of life," creating a super catchy ethos which commands attention. The ingenuity in their retro guitar rock pop compositions is noteworthy, and the male vocals take you on a surf over the waves of smooth rhythms, luring you further into their alt-rock pop world.
I urge you to explore this journey for yourself. Visit BREAKTIME's website, follow them on Spotify, don't miss out on their music, and make sure to like and listen to our curated playlist that features them.

---
2) EDIE YVONNE – Queen Bee
With her unique voice and dream pop sensibilities, Edie Yvonne has emerged as a breath of fresh air in the bustling Los Angeles indie pop scene. Her latest single, "Queen Bee," juxtaposes lush, anthemic melodies with an 80s vibe that's both super catchy and super edgy. As one reviewer put it, "Her music is like riding a kaleidoscopic wave of enchantment."
Indeed, Edie Yvonne's art pop sound has drawn comparisons to established artists like Grimes and Lana Del Rey, placing her on the fast track to becoming a staple of the US-based culture. Skillfully layering her ethereal voice onto a Lofi pop backdrop, she manages to create a nostalgic yet fresh blend of rock pop reminiscent of the best singer-songwriters of our time.
If you're looking for a captivating alternative pop banger to add to your playlist, give "Queen Bee" a listen and immerse yourself in the world of Edie Yvonne. Don't forget to follow the artist on Spotify, visit her website, and like and listen to our indie melodic pop-rock playlist featuring her outstanding female vocals.

---
3) MARK VENNIS & DIFFERENT PLACE – WILD SUBURBAN BOY
From the heart of the United Kingdom, Petersfield to be precise, surfaces an independent artist, Mark Vennis & Different Place, with their piercing new single, "Wild Suburban Boy." Enshrining the spirit of UK-based culture, the single serves up a generous portion of classic rock influences on an intoxicating platter of alternative rock, infused with the authentic essence of rock n roll. It reincarnates the sounds and sentiments of the distinctive era, spinning a nostalgic rendezvous with your long-lost memories.
The band's male vocals add a robust edge to the classic sound, which resounds with echoes of famous stalwarts like the Clash and the Sex Pistols. The strident yet harmonious tones highlight the influences of punk rock and new wave, taking the listener on a rhythmic journey, revealing post-punk undercurrents that subtly sweep you off your feet. As a wise sage once said, "Music has the power to weave tales, ignite emotions, and transport you to a different place."
With "Wild Suburban Boy," Mark Vennis & Different Place undoubtedly wield this power, delivering lyrics that tell a story while intertwining themselves beautifully within the fabric of the melody. The resulting texture is bold, memorable, and absolutely compelling. And it's not just their music, their commitment to their craft, evident in both their songwriting and performance, that offers a beacon of allure. It's a breath of fresh air in today's auto-tune-laden world, reminding us of the raw vulnerability and realness that music was built upon.
Don't get lost in the urban jungle, check out "Wild Suburban Boy" – let its raw, cutting-edge sound engulf you, and take your senses on an unparalleled musical journey. Visit their website and follow Mark Vennis & Different Place on Spotify today. Also, make sure to listen to and like our playlist. Experience their blend of classic and contemporary, hit play, and let the magic of their music transport you to a different place.

---
4) FAKE FIGURES – Miasmatic
Frankly, what FAKE FIGURES delivers is nothing less than an adrenalized shot of fresh energy in the United States ALT ROCK POP scene. Rooted in Orange County, they strike the chord on a deeper, visceral level, creating a sound that transcends boundaries of genre and reach. If the guitar riffs of anthem rock, woven with the coarse beauty of post-hardcore vocals tingle your senses, FAKE FIGURES is the band to watch.
Their latest single, "Miasmatic," bears the musicality akin to METALCORE giants like Bring Me the Horizon, imbued with the super edgy vibes of alternative rockers Radiohead. But let us not get entangled in far-off comparisons. FAKE FIGURES have their unique, irresistible flavour. "Miasmatic" is potent, hard-hitting, brimming with US-based culture that thrills and captivates. "Their music is a blistering wave of emotion, like streaming comets in a metallic sky," one might say.
Allow "Miasmatic" to give you a taste of that metallic essence. So, why wait? Follow FAKE FIGURES on Spotify, and like and listen to their music on our playlist. Cherish the emergent rock, the hard rock with impressive male vocals, and the edgy alternative rock sounds that FAKE FIGURES bring to the table. Step into their world and visit their FaceBook; it's an immersive experience that leaves you pining for more. It's time to embrace the new wave of American music!

---
5) CHLOE MOGG – The Crazy One
From the heart of UK-based culture in Stourport-on-Severn, emerges an indie-rock songstress, Chloe Mogg, captivating the audience with her latest album, The Crazy One. Her ethereal blend of psychedelia and prog-rock displays a depth of thought and emotion rarely witnessed nowadays in the music industry. She commands the unique ability to catch listeners into her narrative, driving her message straight to the heart. As the Scottish novelist, Robert Louis Stevenson once said, "In talking, shyness and timidity distort the very meaning of my words. I don't pretend to know anybody but myself." And Chloe Mogg does precisely that in her delivery, holding nothing back.
Just think of classic rock icons like Alanis Morissette and Tracy Chapman & their anthemic banger compositions. Chloe Mogg, like them, respects the art of storytelling, infusing soul-piercing depth with her super catchy and edgy female vocals that emanate power and warmth at the same time. And yet, she stands on her own, trading in raw, indie melodic pop rock essence that sets her apart, making her a leading force in the alternative rock scene.
Experience the outpour of emotions with Chloe Mogg's ambitious sonic journeys. Explore the space where hard rock meets the softness of heartfelt ballads and where alt-rock pop finds its new spirit animal. Visit her FaceBook, follow her artist profile on Spotify, and immerse yourself in her uniquely beautiful world. As the last note of The Crazy One resonates, we assure you that you'll be clamouring to like, listen, and share our playlist. So, do check out her music, and get swept away by the unique tidal wave of genius she brings to the hard rock and indie rock genres.

---

---
6) LOVE GHOST – Human Error 404
Emerging from Los Angeles, LOVE GHOST, an independent artist in the thriving US-based music culture, has uniquely blended rock, emo rap, and the persuasive power of male vocals to give us 'Human Error 404'. They've masterfully synchronised the tenacity of nu-metal with elements of hip-hop in a manner that echoes the timeless roars of rock giants like Linkin Park. "With its edgy grit, 'Human Error 404' is an audacious manifesto of emotions," a memorable quote that is a testament to the song's power. Equipped with autotune and rock pop notes, LOVE GHOST's single seamlessly integrates emo pop rock in a way that makes every beat distinct.
Emo rock contributes to the uniqueness of their sound, making LOVE GHOST not just another independent artist, but rather an auditory experience akin to those offered by renowned artists like Santana. Yet, there's a rawness to their fusion of rap rock and nu-metal that is super edgy and decidedly their own. Expanding the boundaries of alternative rock with their underlying emo rap influences, they showcase a myriad of exciting and daring elements within 'Human Error 404'.
Now it's your turn to dive into this exceptional audial journey. Check out 'Human Error 404', visit LOVE GHOST's website, and follow them on Spotify for the latest track releases. Additionally, like and listen to our playlist for more independent talent that is just as engrossing.

---
7) DIRTY MITTS – Women
In the thriving London indie scene, DIRTY MITTS presents a sonic surprise. Their latest single "Women" basks in the classic rock 'n roll vibe with strong, charismatic male vocals that echo past greats. This UK-based outfit draws comparisons to legendary artists like the Rolling Stones, thereby cementing their stance in the hard rock genre.
There is a distinct air of UK-based culture in their music, bringing a classic sound sure to resonate with true rock aficionados. "Women" serves as a brilliant example; it's an anthemic, pulse-racing composition that is simply unforgettable. The gritty authenticity of this track triggers the quote, "DIRTY MITTS converges the past, present, and future of rock into a single sound."
Cultivating a fresh perspective on classic rock, DIRTY MITTS delivers an undeniable hard rock vibe with a London twist. The richness of their rock and the fervour in their delivery gears them for grandiosity. They are not just playing music; they're scripting anthems for the new-age rock fanatics.
Take a moment to check out DIRTY MITTS. Visit their website and indubitably, follow them to witness their musical journey. Do not hesitate to like, listen to, and add our playlist to your Spotify. Once you do, the intoxicating allure of their classic sound will keep you coming back for more. Dive in now and explore the fantastic blend of rock and roll with your eyes closed.

---
8) EDGE OF PARADISE – Hologram
Emerging from the lively US-based culture of Los Angeles, EDGE OF PARADISE delivers a potent blend of anthemic hard rock and melodic metal that demands your attention. Their latest album, Hologram, showcases powerful female vocals reminiscent of esteemed artists like Nightwish and Within Temptation, further enhancing the allure of this independent powerhouse.
The heavy metal influences are blended masterfully with a rock-pop sensibility, creating a captivating and unique sound. One listener described their music as "a molten concoction of blazing passion and soul-stirring melodies." This praise perfectly captures the essence of their work, making their songs a must-listen addition to your playlist.
Do yourself a favour and dive into the mesmerizing world of EDGE OF PARADISE's Hologram. Check it out on Spotify, visit their website, and while you're at it, follow the artist and like and listen to our playlist. You won't regret it.

---
9) MODERN DAY OUTLAW – Eulogy
Modern Day Outlaw, emerging from the US-based culture of Tamarac, radiates a refreshing array of Hard Rock coupled with dynamic male vocals. Their hit single, "Eulogy", tells a profound tale that weaves a thread between rock, hard rock, and a touch of metal, akin to the realm of renowned bands like Metallica and AC/DC. Using their music as a canvas, they paint raw emotions which hook the listener from the first note.
What sets Modern Day Outlaw apart is their ability to fuse heavy metal with a classic sound, creating an explosive cocktail of Rock n Roll. It's undeniably unique, yet nostalgic, evoking the spirit of classic rock legends like Guns N' Roses. "Their music is a visceral force that hits right in the gut", a phrase that aptly signifies their quench for delivering top-notch quality.
Eulogy is a perfect testament to their audacious sound. The brilliance shining through this independent artist urges you to visit their FaceBook, check out their music, and immerse yourself in their world. Shift the paradigm and go off the beaten path with Modern Day Outlaw; follow the band on Spotify, like and listen to our playlist – it's a rollercoaster ride of rock, unmissable!

---
10) MATTHEW S. HORNER – The Dark Room
There has been something of a rock revival in the United States, and at the centre of it all is the Springfield, Illinois native Matthew S. Horner. His album, "The Dark Room," has the same experimental spirit found in the best of 90's rock, yet his sound distinctly stands out with its robust nature which feels entirely fresh. It is deftly composed, merging rock with hints of hardcore punk in a seamless flow. Listen closely and you might find yourself saying, "The raw vitality of his music is like an electric shock."
The second paragraph is a showcase of Matthew's abilities as a singer. Among the album's greatest strengths is the power of his male vocals, demonstrating a range and expressiveness reminiscent of famous artists like Kurt Cobain or Eddie Vedder. Horner's vivid vocal charms inject each song with a palpable emotion, unmatched by many in the hard rock or alternative rock scene.
Finally, Matthew's approach is tightly woven with US-based culture, encapsulating his listeners into a space that's both familiar and new. His music is a journey, exploring the very fibres of his heavy metal influences while inciting curiosity and prompting exploration. Do yourself a favour—check out "The Dark Room," visit his FaceBook, follow Matthew on Spotify, and listen to their music on our playlist. It's a testament to independent artistry at its finest.

---

Taking a listen to Pagan Lust's Commie Salami Mommie, one is immediately welcomed with a symphony of hard-charged riffs and blues-inspired…
About Author