Music Selection: 10 Amazing Tunes We Are Excited About This Week From New Rock Artists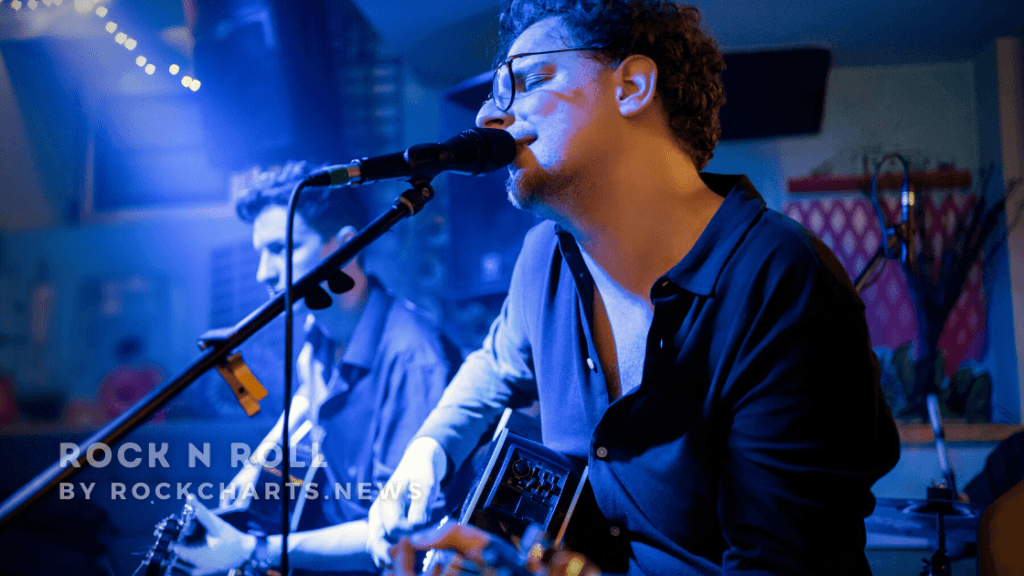 As you probably know, we love getting in on the ground level of an artist's career and bringing their new music to the public's attention. So, our weekly music selection is ready for you!
This week, we were pleased to do just that and write a review of some exciting artists that we think should be on your radar. You will not regret giving them some attention!
Our Rock music selection is a weekly release which we curate specifically for Rock Culture to help promote the musical talent which goes largely unnoticed amongst the mainstream media.
Each week we compile a playlist of 10 new songs by independent rock artists, which you can follow and appreciate. So let's check out some new music and see what we can enjoy.
You can listen to our full playlist which contains the artists' music, and know more about their work by scrolling down the page.
---
1) ROXERCAT – I Changed Today
Price Jones, Stan Lassiter, and Bill Francis are members of Roxercat, a progressive rock band based in Nashville, Tennessee.
In the wake of their well-received debut single, Pearls, Roxercat follows up with I Changed Today, released on November 18th.
Their new single is a perfect example of her signature style: a smooth mix of rhythm and blues and classic rock, with plenty of hints of country twang thrown in for good measure.
In short, this song is a winner if you're looking for something fun and upbeat to listen to while driving down the highway on a sunny day or chilling out by the pool on your off day from work.
Check it out, visit their website, watch their music video, and follow the artist on Spotify!

---
2) OLLIE TWOHILL – Hollow
We're always on the hunt for new music to add to our playlists, and OLLIE TWOHILL really hit the spot.
We first came across OLLIE TWOHILL while browsing Spotify. We love our soft rock and indie rock playlists, but they get a little stale after a while. So when we heard "Hollow" by OLLIE TWOHILL, it immediately stood out as something special.
It's got an amazing balance of pop and rock elements, with an indescribable alt-rock edge that makes it stand out from other pop songs we've heard before.
Speaking of his song "Hollow", Ollie Twohill said:
"It was inspired by a relationship breakup, where my partner at the time decided to abruptly end it. I was completely shocked and blindsided even though it was an amicable parting of ways. Was feeling stunned and rocked at the time. Thinking back on those feelings and the situation, I decided to write a song about it and how I felt at the time. It was a hollow feeling. Guess it is a topic that most people can relate to, so here it is "Hollow". It was recorded on the Gold Coast with the same team involved in all my releases to date. It was recorded with two other singles which I will release in February and April 2023."
We can't recommend this song enough! If you're looking for something fresh and exciting in your life, check out OLLIE TWOHILL's Hollow on Spotify or visit his website for more information about upcoming shows in Australia or around the world!

---
3) ARN-IDENTIFIED FLYING OBJECTS AND ALIEN FRIENDS – No Sweet Dreams
The latest single from ARN-IDENTIFIED FLYING OBJECTS AND ALIEN FRIENDS is a powerhouse of an anthem. No Sweet Dreams is a 90s rock track that combines power pop, indie rock, and hard rock to create a truly unique sound.
'NO SWEET DREAMS' was co-produced by David Myhr (of the Merrymakers) and on the surface seems to be about illness (or perhaps drug abuse), but it also contains a sad message about love.
This song combines elements of uptempo pop and power pop with indie rock. The great Andreas Quinzy Dahlbäck contributes to the vivid drumming.
Producers from PopHits.co described their single "No Sweet Dreams" as an anthem that combines hard-hitting drums with soaring vocals reminiscent of a classic rock ballad while still retaining elements of pop music such as synthesizers and catchy melodies that make it easy to listen to over and over again without getting bored or losing interest after hearing it once!
If you're looking for something new to listen to on Spotify or YouTube Music, check out No Sweet Dreams!

---
4) JOHN JOSEPH – Float
John Joseph is an indie melodic pop rock singer-songwriter hailing from New York City. He recently released a single called "Float," and it's the perfect song for a summer drive.
The song has a classic sound, with a modern edge to it. It's catchy and upbeat, but it also has an edge to it—it's not just another pop tune that sounds like everything else out there on the radio. The lyrics are honest and relatable, which makes them easy to sing along with.
featuring Harry Smith on drums, and Gabe Paiano on bass guitar. This is an upbeat indie-pop song with well-worded lyrics and catchy melodies to match them. It is one of 10 tracks that will be featured on the upcoming full-length LP titled Sunday, set for release in the spring of 2023.
This is definitely one of those songs that will get stuck in your head, so be sure to check it out! You can visit John Joseph's website or follow him on Spotify to stay up-to-date on his latest releases.

---
5) 9 O'CLOCK NASTY – Rise Up
The festive season is fast approaching, which means it's time for the most dangerous boy band on the planet to come out of their slumber and let loose. RISE UP is a ballad of resistance by 9 o'clock Nasty. A love song to revolution.

Nine o'clock-nasty on the song: "The world is objectively a worse place. A scarier place. An increasingly threatening and uncomfortable place. Where are all the protest songs? Why are all the handsome and interesting-looking rock stars not inciting the masses to resist? No, we don't know either but we have decided to do something about it. We are now officially a BOY BAND and this is our love-pop-power-ballad of insurrection".
You can find 9 O'Clock Nasty on Spotify, as well as on their website! Check it out and don't forget to support the boys following them on social networks. They deserve our total attention!


---
6) URBAN WALRUS – August Rain
When you're looking for a good rock tune to listen to, you should check out the new single from URBAN WALRUS. They're a band based in Zurich, Switzerland, and their style is a unique blend of classic rock and indie melodic pop-rock.
Their new single, August Rain, has been featured on Spotify's "New Music Friday" playlist and it's easy to see why: It's an easy-listening song with catchy lyrics that will get stuck in your head.
As far as the vocals and instrumental arrangements go, we can say it is a fantastic, well-produced, laid-back song with some excellent vocals and instrumental arrangements.

In this song, we are told about the finitude of being, the sudden changes in life, the unexpected twists and turns of life as well as strokes of luck. In the face of our own transience, we feel helpless in the face of our own helplessness. If you like what you hear, check out their website or follow them on Spotify!

---
7) BLUEPRINT TOKYO – Cinema Sounds
BLUEPRINT TOKYO is an indie pop rock band that has been gaining momentum in the American indie scene. On October 28th, Blueprint Tokyo released its sophomore EP, Cinema Sounds.
Together with Grammy-nominated recording engineer Travis Ference, the band created a blend of alternative rock and indie-pop that captivates audiences and brings their story to life. The ten-minute EP contains three songs that follow Kevin Dawson's (vocals, guitar) and Andy Hale's (guitar, synth, and drums) real-life experiences.
According to Kevin, "Life has its ups and downs and we look at those sometimes tongue in cheek but always trying to be real with the stories we create".
The EP "Cinema Sounds" is one of my favourite releases from Blueprint Tokyo because it really shows off everything they're capable of doing: creating catchy songs with killer melodies and harmonies, while still being able to incorporate those other elements like heavy guitar riffs or synthesizers that make their music stand out from all the other bands out there right now trying to make it big in this industry. Now check it out, visit their website, and follow the artist on Spotify!

---
8) OVERLAP – Flight 608
If you're a fan of 90's rock, then you'll love Overlap. The Canadian-based band has released their first single, Flight 608, and it doesn't disappoint.
It is the first single from this amazing alternative rock band, the first release, but not the first experience in music as you can see by the quality of their work. As you will hear in the song, it is heavily influenced by rock and post-grunge from the 90s and early 2000s (Incubus is a strong influence on them as well).
Vocals that are emotionally charged, bluesy guitar licks, and rather sad lyrics make up the song. The perfect formula for a radio-ready romantic song.
The band's website is simple but effective—just like their music! You can learn more about the band on their website, which includes links to Spotify where you can listen to more of their work. There's also some great artwork that gives you an idea of what kind of vibe they're going for with their music.

---
9) ENGELBERT HUMPERDINCK – How Can You Mend A Broken Heart
Engelbert Humperdinck is a legend. His voice has been known to bring grown men to their knees, not just in the UK, but around the world.
In one of the greatest love songs of all time, the Bee Gee's first US #1, gets a magnificent new interpretation from one of the greatest singers of the week, Engelbert Humperdinck. That's why he is in our Top 10 selection.
In Nashville, the legendary singer recorded a heartfelt country/blues rendition of this timeless classic. In a recent YouTube Live Special premiered at the end of November, he performed a live rendition of the Bee Gees classic, part of his upcoming 'All About Love' Mini album/EP. Following the enthusiastic response from his fans, the proper studio version was released immediately as a single.
If you're looking for something new to add to your playlist that will get people dancing (or crying), check out Engelbert Humperdinck's music on Spotify or visit his website!

---
10) AINHEEKY – Hard Sell
If you're looking for music that will make your heart soar, give you goosebumps, and get you pumped up, then look no further than AinheeKy's single "Hard Sell."
AinheeKy's sound is classic power pop with a little bit of rock thrown in for good measure. There's a real sense of lightness to their music—you can almost imagine yourself rocking out in front of a campfire while the sun sets on a perfect summer day. It's just so… fun!
The artist is from Brazil, Divinópolis, and his project can be classified as Bedroom pop style and retro rock. We loved it!
And while they may not be an American band, they definitely have an American sound. You'll find AinheeKy's songs on Spotify, and visit his website too!

---

Alamance's Wanderers is pretty much the kind of pop-rock song you want to hear to get your day started right.…